Your hot water heater is your home's essential component. If you're experiencing issues such as inconsistent water temperatures or no hot water at all, our team of expert technicians can help. We have the expertise and tools to diagnose and fix any problem, from a malfunctioning pilot light to a faulty thermostat. Our goal is to provide prompt and reliable service, ensuring that your hot water is restored quickly so you can get back to your regular routine. Don't suffer through a cold shower or doing laundry without hot water any longer – contact our team today for fast and effective water heater repair in Sacramento.
A malfunctioning water heater can disrupt your entire day, leaving you with frigid showers and dirty dishes to deal with. That's where professional water heater repair services come in. Experienced technicians can diagnose and fix the issue quickly and effectively, including tasks like hot water heater replacement, minimizing any inconvenience to you and your family. Whether it's a minor part replacement or a complete overhaul, a skilled technician will keep your water heating system running smoothly in no time. Don't let a broken water heater ruin your day - trust in the expertise of a professional repair service to get your home back to normal.
Do You Need Water Heater Service?
Call for water heater service when:
Leaking water
Water damage around the heater
Abnormal sounds coming from the heater
Bad-tasting hot water
Discolored hot water
It is important to keep up with routine maintenance tasks to ensure your home continues functioning effectively. For example, one critical component of any household's infrastructure is the water heater, providing you and your family with hot water for showers, dishes, and more. Over time, they may experience issues that impact their performance, such as sediment build-up and leaks. If you suspect your water heating system isn't performing as it should be, or you are experiencing a lack of hot water, it may be time to seek professional water heater service. Working with a skilled technician can help identify any underlying issues and provide the necessary repairs to get your water heater to function optimally once again.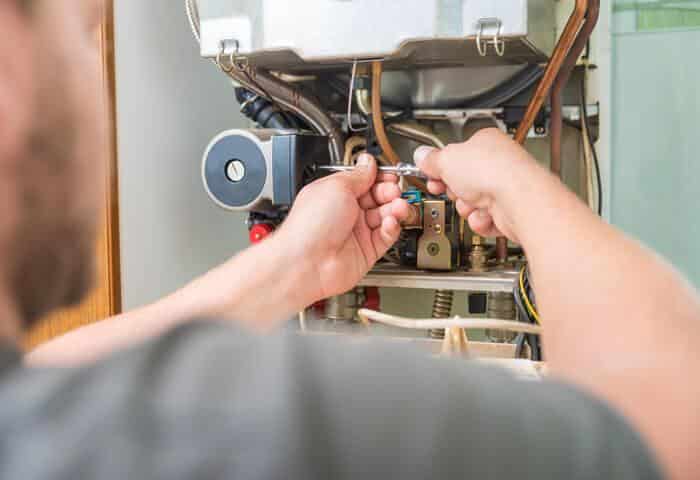 Viviane Maxwell
2022-06-22
Heald is the best! Not only did they answer their phone after business hours, but they gave me an appointment the following day. It was so nice to have the air working again with the temperatures over 100 degrees. I also appreciate their honesty. I will be their customer for life and recommend them to all of my contacts having issues with their ac and heater. Keep up the good work!
Good, skilled service; honest advice; worthy of my trust. Fair prices.
We had Heald Mechanical (Doug) come out last Spring and put a whole new Heating and AC Unit's in. These guys don't cut corners and are honest in all their work. I would use them again and refer them to others without a question.
Recently my air conditioner went out and all the contractors under my home warranty were booked up to three weeks for diagnostic appointments. Since the temperature that week was peaking over the 100's, I couldn't wait any longer with little children in my home. I decided to call Heald Mechanical based on the strong recommendation from my parents who were tremendously satisfied with the work Heald did on their HVAC system the previous month. Brad came out the next day and diagnosed that the liquid line dryer was leaking due to a poor weld job. Although it was peak season and they were super busy, Diane was able to schedule an appointment a few days later to fix the leak and refill the Freon. It saved our lives. During a time when all the AC contractors were so busy with the temperatures being so high, Heald Mechanical was able to squeeze us in and give us cold air once again, and for that I am truly grateful. We now have our go-to company for all our future HVAC needs in the future. I highly recommend them as an honest, trustworthy company that values people and guarantees all their work. If only there were more local companies in the Sacramento area who lived by the same standards.
Heald Mechanical replaced my 30 year old HVAC system. Doug gave me options of different brands and explained what he liked and didn't like about the different bands. In the end we chose a system that we both felt would work within my budget. On instal day they arrived on time. They were very clean and respectful of my property. I would highly recommend Heald Mechanical to my friends, family and you.
We have been depending on Heald Mechanical for over 10 years. Greg and Doug have done HVAC work for my wife & I, and plumbing. They are great! They are dependable, talented, honorable and reasonable. They have rescued us from clogged pipes on holidays, blown water heaters (while we were gone on vacation) and HVAC systems that stopped functioning at the worst possible times. I love these guys! There is no one better.
Our HVAC quit on us suddenly, so we called a couple of different companies to take a look/quote us on getting it repaired. Doug came out and diagnosed the problem, which unfortunately ended up being that we needed a replacement (it was over 20 years old). He was very knowledgeable and didn't try to upsell us on anything. In fact, compared to other quotes we got, his price was most aggressive. Being that it it gets below freezing temps at night, we needed a replacement ASAP, so he scheduled us two days later. He and his crew did great work and now we have heat again!
Scott Battenfield
2020-07-10
I have been a customer of Heald Mechanical for over 15 years. They have always been responsive to my repair needs, timely, technically competent, professionally respectful, and reasonably priced. I have always felt valued by them as a customer, and Greg and his crew have done top notch, reliable work.
Melissa Shrout Augustine & Associates RE/MAX GOLD
2019-09-16
Heald Mechanical gets 5-Stars for their expertise, professionalism, honesty, efficiency and communication. I use Heald Mechanical both personally and professionally. The best!
SERVING CALIFORNIA SINCE 1910
WATER HEATER REPAIR AND SERVICE
As a homeowner, ensuring that your water heating system is optimally functioning is crucial to your daily routine. Whether it's for taking a cold shower in the morning or washing dishes, a malfunctioning water heater can quickly become a major inconvenience. That's why you need a professional water heater repair and service company that you can trust.
With years of experience and a commitment to customer satisfaction, Heald Mechanical provides reliable repairs and maintenance services to keep your water heating system running smoothly. Don't let a faulty water heater disrupt your day-to-day routine any longer. Contact us today to schedule your repair or service appointment.
SERVING CALIFORNIA SINCE 1910